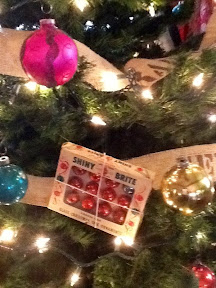 I always hang my mini boxes of Shiny Brites on my tree. It's what I do.
I like white BUT I like color too!
Vintage Christmas Cards...Glittered clothes pins. Pretty snazzy, huh?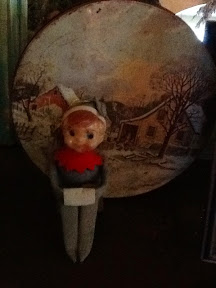 Not yo' packaged Elf on the Shelf. This one is the Real Deal.
Just another pretty face. Or two. Hoo hoo!
Real garland made from cuttings off neighbors cedar tree. I'm cheap.
(The neighbors cedar tree grows on fence line and the limbs were on my side.)
So, there ya go! Mine!
The main tree with wrapped gifts.
Dollar Tree non-Christmas wrapping paper, stained, torn, slightly burned strips of pillow ticking make up the "ribbon" aded a pine cone and some greenery. Oh, and a stained tag.
I need to stand this package so you can get the full affect that those are candy canes on the paper. Ribbon is actually and old torn tablecloth stained and distressed. BINGO card torn and glittered tag.
Dollar Tree non-Christmas wrapping paper. Love it!
There's that red flannel shirt again.
That purchase has really paid off. Stained tag.
Burlap ribbon, pine cone, red plaid flannel and stained tag for this one.
Close up BINGO tag!
Yay! Presents!
For the grandmonsters...snowmen wrapping paper